CONTACTS

Machines and instruments for professional beauty.
La Playa produces and commercializes equipments for the professional beauty, furniture and accessories for the professionals of this sector.
In our Show Room, you will find innovative solutions to manage your activity and offer comfort and avant-garde services.
If you are looking for new business opportunities to complete your offer for your customers, here, in this Show Room you will find new ideas and new instruments to increase your proposals list. La Playa gets up to date constantly, keeping in contact with the best producers and taking part in the beauty-wellness fairs, in Italy and abroad.

NOVITA':
KIROLIGHT - DEPILAZIONE DEFINITIVA

.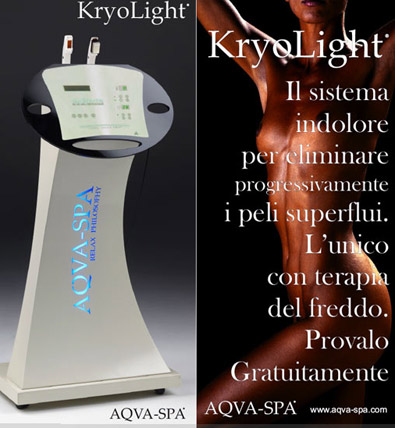 KryoLight Il sistema indolore per eliminare progressivamente i peli superflui.
L'unico con terapia del freddo. Provalo Gratuitamente CryoLight è una apparecchiatura per trattamenti estetici. Prima del suo uso, leggere attentamente quanto riportato nel manuale di istruzioni e comunque accertarsi sempre dell'assenza di tutte le controindicazioni elencate in esso.
Caratteristiche fisiche:
Larghezza: 450mm;
Altezza: 1240mm;
Profondità: 490mm;
Peso: 35 kg;
Involucro esterno: acciaio verniciato e mat. metacrilato
Classificazione Tipo di costruzione: apparecchio di Classe I di tipo BF ;
Grado di protezione nei confronti della penetrazione d'acqua: apparecchio comune;
Apparecchio per uso continuo;
Apparecchio non adatto ad un uso in presenza di una miscela anBEAUTY infiammabile con aria o con ossigeno o con protossido di azoto.
Caratteristiche dei corpo testa
Lunghezza d'onda manipolo fotodepilazione: 570 - 1200 nm
Lunghezza d'onda manipolo fotoringiovanimento: 550 - 1200 nm
Energia massima erogata: 50 Joule/cm2 Dati di targa
Tensione nominale: 230 V nominale: 340 VA
Frequenza nominale: 50 Hz
Caratteristiche dei fusibili
Dimensioni: 5x20mm Corrente nominale: 2A
Ulteriori specificazioni: Fusibili tipo T
CONFORME ALLE NORME GENERALI C.E.I. 62-5
CERTIFICAZIONE CE Ogni nostra apparecchiatura è collaudata singolarmente e conforme alla normativa CE.

12 mesi di Garanzia a norma di legge.